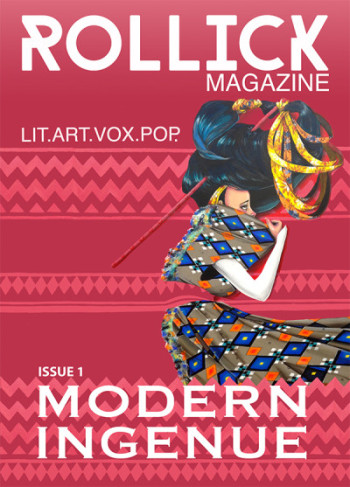 Submissions are still open for Rollick's Modern Ingenue issue.
Rollick's mandate is to  attract cutting-edge, quality content that inspires real engagement. We will consider any pitch that expresses unique and original thought.
You can send in essays, poems, short stories, memoirs, confessionals, experimental writing, post cards, art, illustrations, reviews (of film, music, tv, theatre), satire, photography, and anything else in between.
The modern ingenue challenges traditional codes and expectations. She is no longer the naive, enigmatic object of affection, inspiration, and possession that she was in the past.The modern ingenue confronts and eviscerates like Hannah Horvath. She is buoyantly idealistic like Leslie Knope, and a "complicated cat" like Piper Chapman.The Modern Ingenue issue is about all these sorts of people and more.If you would like to submit your work to us, please email us at submissions@rollickmag.com
A monetary prize will be awarded to the most popular post in the upcoming 'Ingenue' issue.
The Modern Ingenue issue will run for two months and close on May 31. Voting for our Most Popular Post Award will continue two weeks after the close of the issue. Our second issue (theme to be announced) will then be released on 1 June.
Follow us on Facebook to keep up to date with our latest news!
If you would like to be published in Rollick Magazine, see our submissions guidelines for more information.

Rollick Magazine's Modern Ingenue issue features the work of Parisian-born artist

Lucy Lucy

. Currently residing in Melbourne, Lucy Lucy has graciously carved her niche in the Australian urban art community. Her work moves between large-scale public murals, tribal ornaments, handmade accessories, textiles and bespoke fashion.
Lucy's work explores femininity; her elegant figures are often depicted demonstrating strength or resistance to unseen forces through tension between body and fabric. Her interest in textiles and pattern make for vivid and bold imagery bursting with color and intensity. As an active member of the internationally acclaimed AWOL Crew, Lucy's work has been exhibited and featured in Melbourne's NGV (National gallery of Victoria) and various galleries in London, Paris, Toronto and Sydney.
You can view more of Lucy Lucy's work at her website
carbonmade
.

MEL VANROYEN, Editor-in-chief
PENNY LIBERIS, Contributing Editor
DANIEL KIM, Contributing Editor