Submissions are now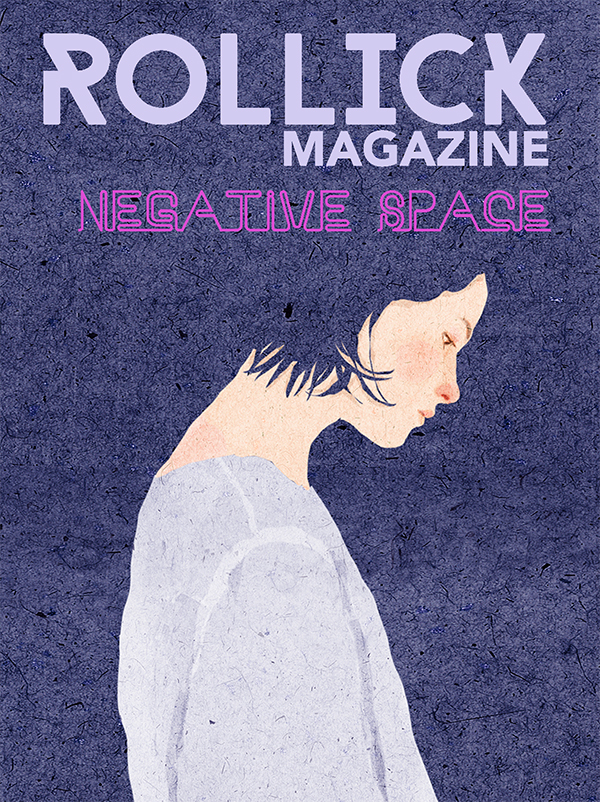 open for Rollick's Negative Space issue.
Rollick's mandate is to  attract cutting-edge, quality content that inspires real engagement. We will consider any pitch that expresses unique and original thought. Ideally, we want you to explore this theme through the prism of popular culture and your experience of society.
You can send in essays, poems, short stories, memoirs, confessionals, experimental writing, post cards, art, illustrations, reviews (of film, music, tv, theatre), satire, photography, and anything else in between.
Stark contrasts. Black and white. Shapes and forms that are hidden, peripheral, other. Negative space can exist around and between the focal point of an image or an idea. Perhaps it is hidden beyond what your mind can imagine, or maybe it is camouflaged in plain sight. Reversal of emphasis. Hidden, yet always present. Negative space is all around us.
If you would like to submit your work to us, please email us at submissions@rollickmag.com
A monetary prize will be awarded to the most popular post in the upcoming Negative Space issue.
Negative Space will be running from March 2016 to the end of April 2016. Voting for our Most Popular Post Award will continue for four weeks after the close of the issue.
Follow us on Facebook to keep up to date with our latest news!
If you would like to be published in Rollick Magazine, see our submissions guidelines for more information.
The cover image for Rollick Magazine's Negative Space issue has been provided by illustrator Xuan loc Xuan.
Xuan is an illustrator in Ho Chi Minh City, Vietnam. Xuan uses both traditional and digital tools in order to create graphic designs that showcase beautiful moods and blended colours.

MEL VANROYEN, Editor-in-chief & Creative Director
HAYDEN PETERS, Marketing Director
NEDA MONSHAT, Contributing Editor
ROBERT NAUMOFF, Contributing Editor
PENNY LIBERIS, Contributing Editor